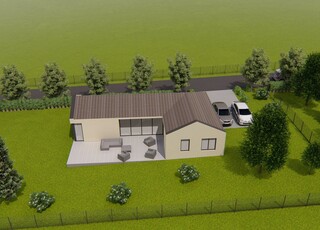 Newly built " CLEVER HOUSE" under construction in Gyenesdiás for sale!
It makes it possible for many people to create an independent home, where they can enjoy nature and tranquility near Lake Balaton every day.
In the vicinity of the area there are beaches, marina, restaurants, shopping center.
Keszthely is 3 km away and Hévíz Spa is 10 km away.
In Gyenesdiás, each on a 933 sqm plot, 6 newly built one-storey garages of 168 sqm, living room + 3 bedroom family houses are for sale!
Construction of the first house will begin this year, handed over in 2021, turnkey, with kitchen furniture (without kitchen appliances).
All 6 houses will be built next to each other in the newly designed, sloping street of Gyenesdiás, due to the terrain, there is a price difference due to the partial panorama of the upper houses.
Sales price: EUR 257,000 to EUR 280,000
The investor changes the existing floor plan if required by the buyer, within a limited technical framework, and it is also possible to select the interior coverings within the given price category.
The houses are equipped with separate inverter meters for solar conversion, heating is integrated into the underfloor heating and electric radiator panel system.
Hot water supply is provided by an electric water tank.
Facade doors and windows are made with 3 layers of thermally insulated glazing, the cooling of the houses is air-conditioned.
Net floor area:
Loggia: 2.62 nm,
Hallway: 7.30 sqm, Traffic: 14.15 sqm, Living room-kitchen-dining room: 37.52 sqm,
Bedroom: 11.86 sqm, Bathroom: 5.40 sqm, Bedroom: 11.37 sqm,
Bedroom: 13.96 sqm, Wardrobe: 6.61 sqm, Shower room: 5.78 sqm,
Household-engineering room: 8.82 sqm, Garage: 17.75 sqm,
Terrace: 12.09 sqm, Terrace: 30.27 sqm,
Traffic ramp: 64.27 sqm, Car parking space: 23.87 sqm,
Garden: 602.62 nm, Front garden: 12.77 nm
You choose the best investment, you can own a house in a beautiful setting, habitable or easy to rent.