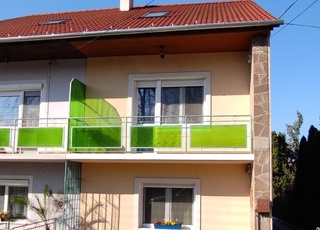 Completely renovated, high-quality, family house in Hévíz near the popular healing lake.

The family house, the northern half of a semi-detached house, has an independent topographical number. This three-storey house in excellent condition was built in 1972 and has been completely renovated in the last few years.
Exterior thermal insulation, complete roof replacement, insulated windows, bathroom renovation, attic room design, gas boiler replacement, electrical wiring, socket cover replacement.
The building has 125 m2 of living space: Ground floor: living room 25 m2, kitchen 15 m2, bathroom 4 m2, toilet 1 m2, corridor 4 m2. Attached to the kitchen is a nice terrace of 11 m2.
Under the terrace there is a cellar of 8 m2.
Floor: 2 rooms 20 m2, 16 m2, bathroom-toilet 3 m2, approx. 4 m2. Both rooms have a balcony.
Attic: 2 rooms 20 m2, 9 m2, approx. 4 m2.
In the yard there is a small cottage with a garage of 20 m2 and an apartment of 25 m2 (room, kitchen, bathroom-toilet, hallway). In front of the apartment there is a covered garden lounge.
The house is heated by a high-capacity gas boiler, and there is a wood-burning fireplace in the living room for additional heating.
Utilities, electricity (220 V, 380 V), water, sewer, internet, telephone in the house are available.
The famous thermal lake of Hévíz is only 500 m away on foot. Keszthely - Balaton is 6 km away.