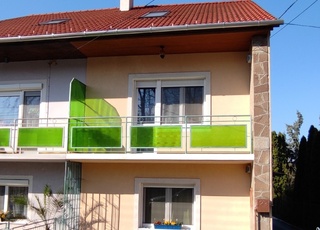 In Hévíz, near the popular spa lake, completely renovated, high quality, detached house for sale from owner.
The family house, the northern half of a semi-detached house, has a separate parcel number. This three-storey house in excellent condition was built in 1972 and has been completely renovated in the last few years.
Exterior insulation, complete roof replacement, insulated windows and doors, bathroom renovation, attic rooms, gas boiler replacement, electrical wiring, subfloor tiling.
The building has 125 m2 living area.
Under the terrace there is a cellar of 8 m2.
Upstairs: 2 rooms 20 m2, 16 m2, bath-WC 3 m2, bathroom 4 m2.
Attic: 2 rooms 20 m2, 9 m2, 4 m2.
In the courtyard there is a small cottage with a garage of 20 m2 and an apartment of 25 m2 (room, kitchen, bathroom with toilet, hallway). In front of the apartment there is a covered garden.
The house is heated by a high efficiency gas boiler and the living room is additionally heated by a wood-burning fireplace. The attic rooms are heated and cooled by air-conditioning.
Utilities, electricity (220 V, 380 V), water, sewerage, internet, telephone are available in the house.
The famous thermal lake of Hévíz is only 500 m walking distance. Keszthely - Lake Balaton is 6 km away.