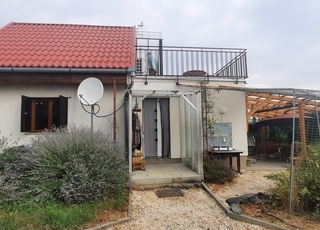 In Felsőpáhok, on a 4055 sqm plot opening from a tidy street, an insulated two-storey, 3-room, 75 sqm, roof terrace, light-structured and brick-structured house, suitable for permanent housing, is for sale!
Thanks to the "T" shaped plot, the right side of the house can be further expanded and continued!
Property with excellent value for money, on the 4055 sqm plot there are 2 more outbuildings 30 sqm plus 20 sqm, car parking, fruit juicer, covered barbecue, well with irrigation system and an underground 20 sqm dry cellar.
In the garden there are several valuable fruit trees, bushes, ornamental plants, along with the equipment of the house, the machines and tools necessary for cultivating the garden are also for sale.
Ground floor: entrance hall, living room, kitchen, dining room, bathroom, 20 m2 terrace
Upper floor: entrance hall, bedroom, bedroom, roof terrace 20 m2
- Air conditioning, cooling-heating
- 380 V
- wood-burning water fireplace plus electric heating (natural gas on the plot)
- electric gate
Felsőpáhok, a settlement 3 km west of Hévíz, is located on a hillside, next to the main roads 76 and 760.