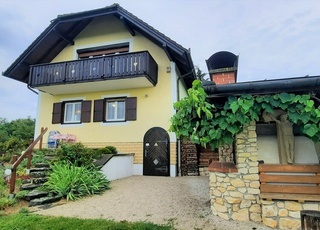 Family house with panoramic views of Lake Balaton, in a beautiful vineyard setting!
On a plot of 3598 m2 stands this 3-storey 215 m2 house!
The Austrian owner built the house with great precision and high quality materials.
On the ground floor there is a hall, a room, a kitchen-dining room, a bathroom with a terrace of 33 m2 which highlights the appearance of the house.
In the attic there are 2 bedrooms, living room and bathroom.
Under the whole building there is a cellar. There is a wine cellar, a preparation room and 2 storage rooms.
In the garden, in a separate building, there is a 30 m2 garage and a carport.
There is a cosy covered barbecue area for relaxing.
Heating is provided by a wood-burning tiled stove and an oven-cooking stove. For central heating, the pipe system is built into the walls.
Hot water is supplied by an electric boiler. Waste water is drained to a closed storage tank.
The well-kept plot is planted with fruit trees and vines.
I recommend it to my nature loving, quiet and peace-loving clients.
Alsópáhok is only 3 km from Hévíz - Thermal Lake and 7 km from Keszthely - Lake Balaton.