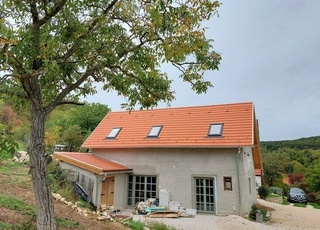 Panoramic family house in a beautiful vineyard setting, 10 km from Lake Balaton!
The plot of 2700 m2 is composed of two plots (300 m2 + 2400 m2), which are located on separate parcel numbers. On the smaller plot is the 2-storey 120 m2 house, rebuilt from the ground up!
The ground floor consists of kitchen, pantry, living room, guest room, bathroom and laundry room, the attic has 2 bedrooms, hall and toilet.
There is also a storage room next to the building.
All windows and doors are made of wood and 3 layers of glass, protected from the outside by wooden shutters. Inside, the walls are plastered in white, which still needs to be painted and the exterior walls of the house are to be painted by the new owner.
Heating is provided by a wood-burning fireplace and electric radiator.
Water is supplied by a tested well, hot water is supplied by an electric water heater.
Sewage is drained to a closed storage tank.
The new IKEA kitchen and all appliances and furniture are included in the price.
This nice little house is located 10-15 minutes from Tihany and Balatonfüred, in a well accessible location near the village of Pécsely.
I recommend it to my nature-loving, peace and quiet-loving clients.