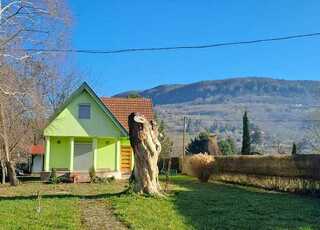 House at Lake Balaton with wonderful panoramic view !!!
If you are looking for a really sophisticated, almost new house, without hidden costs, you have found it here!
For sale a holiday house with a wonderful panoramic view of the Badacsony mountain, on the old noble residence in Badacsonytördemice!
We offer for sale this two-storey detached house in excellent condition, built in 2009, gross 104 m² (net 84 m²), thanks to the careful owners, like NEW !!!!
"Ground floor" distribution:
-living room, bedroom (hallway), kitchen + pantry, bathroom + toilet, dining room, porch.
"Attic level":
- "2" bedrooms, hallway, bathroom + toilet, pantry.
Utilities: water, electricity, sewerage, gas
Extras: double "mobile" garage paved, mobile air conditioning, mobile jacuzzi,, built-in summer kitchen with a double-walled oven, barbecue, preparation, rafters instead of received, built-in electricity and water connection. Garden storage, "shed", irrigation system.
Plot: 1873 m2, well-kept, landscaped, fenced, with two entrances, beautiful willow trees.
In the vicinity you can find almost everything, e.g. Lábdihegyi beach 10-15 minutes walk, shop, doctor's surgery, Szigliget train station, ice cream parlour, restaurant.
I recommend it for those who want to get away from it all, who are looking for peace and quiet, a little secluded but still close to everything, who love good places like Badacsony, Szigliget, the north shore of Lake Balaton, who like cycling, hiking and even hosting friends or extended family and who want a summer kitchen where everyone can eat and drink and enjoy the view of the Badacsony hill!