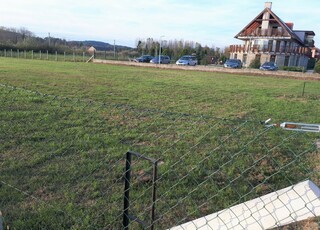 Right next to the popular thermal bath are 4 construction sites for sale!

Great investment!

30% installation possibility with single-family dwelling, accommodation, restaurant, business.
The plots have a total area of ​​2244 m2 (4 x 561 m2).

Electricity and gas on the property, water and sewage are in front of the property in the street.
Internet and telephone available.

Recreation and wellness right in the village Kehidakustány in the beautiful bathing center. Summer and winter an attractive destination.
The Keszthely-Balaton is 20 km away and the Hévíz Thermal Lake is 15 km away.

The city of Keszthely has excellent restaurants, museums, sports facilities, etc. offering a wide range of products.
Hévíz, the famous spa town, where you can enjoy the effects of thermal water all year round.
From here you are not far from Lake Balaton and Kis Balton Nature Park. The surrounding nature offers many opportunities for swimming, walking, hiking and cycling.

A beautiful plot in a quiet area, not far from Balaton, Keszthely and Hévíz. To be reached from Germany via Vienna and Graz.